Whitney Burbank (she, her, hers)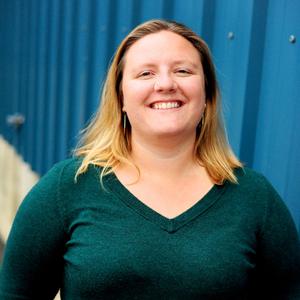 Whitney Burbank (she, her, hers)
Client Service Associate
Portsmouth, NH Office
"Without community there is no liberation, only the most vulnerable and temporary armistice between an individual and her oppression. But community must not mean a shedding of our differences, nor the pathetic pretense that these differences do not exist."
Audre Lorde
The teachings of Audre Lorde have been crucial in developing an understanding of myself, the importance of community, and my place in said community. Community can be born out of geography, history, interests, empathy – the latter enabling us to expand our circles beyond the bounds of our wildest expectations. And while part of building community is making connections, it's also about having difficult conversations. What difficulties do people face in day-to-day life? What about barriers on a systemic level? How can we turn toward each other and make an impact on a local, national, even global level? How do we build community? These questions are fraught with complexities, and deserve introspective, nuanced answers.
And how does financial planning play into all of this? Everyone can benefit from taking stock in what they value, paying attention to their financial situation, and creating a game plan. By engaging in professional financial planning, you are choosing to take control of your present and future. It is often the difference between living the life one chooses, and the life for which one settles. Growing personal wealth creates stability, and when people feel more stable and less stressed, they can be involved in their community in an enduring and substantial way. I'm thrilled to join Cornerstone and help facilitate wealth on both an individual and community level.
Like most New Hampshire natives, I enjoy being outdoors as much as possible – granted it's over 40°. I'm also passionate about food, and I'm fortunate enough to live in an environment which enables me to enjoy local ingredients, whether that's creating a new recipe at home, or frequenting one of our many excellent restaurants.
Whitney graduated from the University of New Hampshire with her Bachelor of Arts in Women's Studies and a minor in Race and Ethnic Studies. Prior to joining Cornerstone, she spent a decade providing exceptional service in client-facing roles.