Mackenzie Parsons, CFP® (she, her, hers)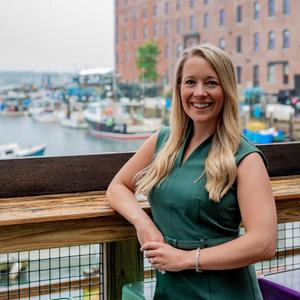 Mackenzie Parsons, CFP® (she, her, hers)
Portland, ME
"If you fail to plan, you're planning to fail."
Benjamin Franklin
"I realize that's a rather intense quote, but it's true. It appeals to me because I'm a planner by nature.
I look at our client's financial life like it's a giant puzzle with all these different pieces that need to come together to create the financial picture they want. There are so many different things you have to think about when you make a financial decision. It's intricate, and the pieces have to fit well together. The best financial plan is the one that works for all the different pieces.
I'm very proud that I became a CERTIFIED FINANCIAL PLANNER™ practitioner at such a young age. It wasn't easy. After a full workday, I spent another three or four hours pursuing my certification. I find my chosen career path a very satisfying one and I am excited to go to work every day. Financial planning appeals to that part of me that believes in always doing a job well. I take great satisfaction in knowing I have put forward my best effort in carrying out my fiduciary responsibilities to our clients.
Everyone needs financial planning—everyone can benefit from it. It's not just for people who have a lot of money. In fact, good financial planning is what gives one financial stability and maximizes wealth accumulation. Good financial planning provides benefits through all phases of life—adolescence, college, working career and retirement. I want to ensure everyone is very comfortable with their financial plan and to trust it to do for them what they need and want it to do.
When I'm not working, you will find me on the water in a boat of some kind—any kind of water and any kind of boat! My father and I have been sailing together since I was three years old, and I co-own a wooden sailboat with him that was built in 1946 (John Alden Explorer). There is no better place in the world than the coastal waters of Maine to sail. I've been coming to Maine in the summers since I was five years old, and I finally moved here year-round in 2014."
Mackenzie obtained her CERTIFIED FINANCIAL PLANNER™ Certification in 2013 and became a NAPFA (National Association of Personal Financial Advisors) Registered Financial Advisor in 2014. She is also active in her newly adopted community. She is the Chair of the Portland Chapter of the Maine Women's Network and a member of the Maine Estate Planning Council. She is active in the Junior League of Portland, Maine and sits on the Board of Directors as Recording Secretary; 100 Women Who Care – Southern Maine; and Propel of the Portland Regional Chamber of Commerce.
Mackenzie graduated from Roger Williams University in Bristol, Rhode Island, Magna Cum Laude, with a BS, in Financial Services. She later completed her Financial Planning coursework at Boston University. Prior to joining Cornerstone, Mackenzie worked at UBS Private Wealth Management in Boston, and prior to that, she worked as assistant portfolio manager at SMI Management and Research in Damariscotta, Maine.