Cornerstone Hits the Trails to Volunteer!
Posted by Anna Traugh on September 9, 2021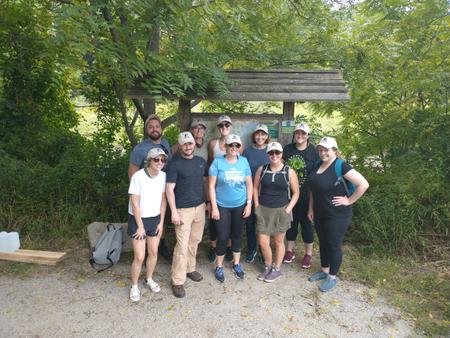 On August 30th the Cornerstone Team came together to spend some time volunteering with the Portland Trails Association (PTA.) This non-profit urban land trust is working to transform and maintain the over 100 acres of land that is held by the trust. The network of trails includes over 70 miles of trails in the Greater Portland Area that PTA works to build and maintain to provide free recreation and active transport to all.
The group from Cornerstone ventured to the Fore River Sanctuary in Portland for a volunteer experience to remember! We joined Trail Stewardship and Volunteer Coordinator, Daniel Bishop, on an endeavor to preserve existing trails. The day consisted of carrying building materials to and from the trail, as well as breaking down, salvaging, and rebuilding several well-traversed wooden bridges throughout the sanctuary.
It was a successful day working together as an organization to support our local conservation efforts to protect Maine's ecosystems and aid in maintaining our beautiful community trail network! For more information on how you can get involved with Portland Trails, visit their Volunteer Opportunities page.