Cornerstone Volunteer Day 2022
Posted by Anna Traugh on June 13, 2022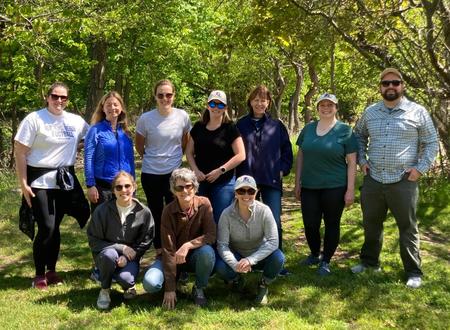 Service within our communities is something we value greatly at Cornerstone. Not only do our employees receive paid time to volunteer for the organizations of their choosing, we also participate in a company-wide group volunteer day annually.
This year, we chose to use our volunteer day contributing to the Seacoast New Hampshire community by working at Odiorne State Park in Rye, NH. Facilitated by the remarkable Seacoast Science Center, Cornerstone employees spent a gorgeous early summer day removing brush from areas along the walking and biking paths throughout the state park and planting seedlings of native plants, such as bayberry. We learned that this work is particularly important because it helps invite natural biodiversity back into the ecosystem of the park.
Unfortunately, this ecosystem has been overtaken by invasive species, such as Oriental bittersweet and glossy buckthorn. These invasive species were planted to act as natural camouflage when the area was used for bunkers during World War II. Unfortunately, the reason these plants are good for hiding military fortresses is the same reason that makes them so dangerous to the native habitat: they grow quickly and have a tendency to wipe out other plants in the process.
We helped contribute to the restoration of the natural habitat by clearing the debris left by the removal of some invasive plants. Once we cleared the area where invasive species had once thrived, we planted many native plants to encourage new growth of species local to the area! These native plant species will also encourage various types of organisms to return the park- a crucial step to restoring biodiversity!
We thoroughly enjoyed our day volunteering at Odiorne State Park and felt grateful to be able to play a small role in the restoration of the land in an area that many of us enjoy in our personal time. The enthusiasm of our volunteer supervisor, Tracey, was infectious and she truly helped make the day one to remember!
Cornerstone is proud to value volunteerism and prioritizes giving back to our communities, and we have fun while doing it! To see other organizations, we have donated our time and resources to, visit our Giving Back page.