World Bee Day
Posted by Anna Traugh on May 21, 2021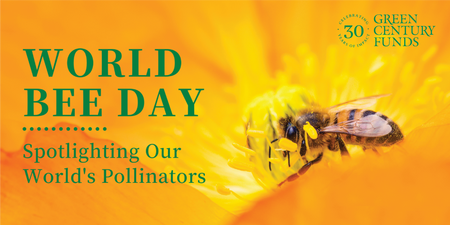 We are forwarding along this communication from Green Century Investments which highlights the important work in which this non-profit mutual fund engages:
Today is World Bee Day, and we wanted to let you know how these small, but mighty, species play a vital role in our ecosystem and how Green Century° is working to protect them.

Three-fourths of the world's flowering plants and about 35 percent of the world's food crops rely on animal pollinators such as bees to reproduce, according to the U.S. Department of Agriculture.

This year, investors in Green Century helped generate these two buzzworthy accomplishments:
Protecting the Bees that Play a Vital Role as Pollinators
Green Century pressed home improvement retailers on the sale of glyphosate-based herbicides, an agent for killing unwanted plants that has a series of adverse effects on pollinators and human health. In response to Green Century's shareholder proposal, Home Depot* committed to making organic pesticide products and educational materials about pollinators more easily accessible to consumers.
New restrictions in Massachusetts on bee-killing pesticides will help keep our pollinators safe
A coalition of beekeepers, environmental advocacy organizations and one of our nonprofit owners, MASSPIRG, secured a significant regulatory victory on neonicotinoid insecticides, or "neonics," a class of pesticides that is particularly dangerous to bees. The new regulation, passed by the Massachusetts Department of Agricultural Resources (MDAR), will protect bees and other pollinators by restricting the commercial use of neonics.
If you are already a Green Century Funds investor, thank you for helping to save some of the world's most important species. To learn more about the Green Century Funds, please visit our website.

Finally, if you're interested in cultivating that green thumb and saving the bees, the U.S. Forest Service has tips on how you can plant a bee-friendly garden.