You can't get there from here
Posted by Mackenzie Arsenault on October 16, 2015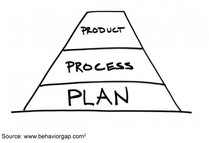 As a financial planner I am often asked 'Any hot stock tips'? The answer most days is no. This encourages me to remind people 'why' they are investing and to put less focus on the actual investment or the daily market activities.
Carl Richards depicts this quite nicely.
Investments are important but first you need to figure out where you want to go (the plan): what is most important to you and what you want to achieve - the 'why' to your investment. Once you have the plan (or even just a list of goals) then you can decide what to do to get there (the process) and lastly what types of investments to utilize (the product).
If you're planning a trip you wouldn't pick the mode of transportation until you have picked your destination. You can't drive to Europe!